Rewarded video ads are an immersive ad format that fetches higher eCPM as compared to any other ad unit. This makes rewarded videos the number one preferred method of app monetization for many game/ app developers. Rewarded videos not only deliver better eCPMs but are incredibly popular among end-users. Players willingly opt-in for rewarded video ads which lead to enhanced user retention and engagement. This leads to improved in-app ad revenues for the app developer, as higher user engagement & retention uplifts CTR & completion rates.
Rewarded Videos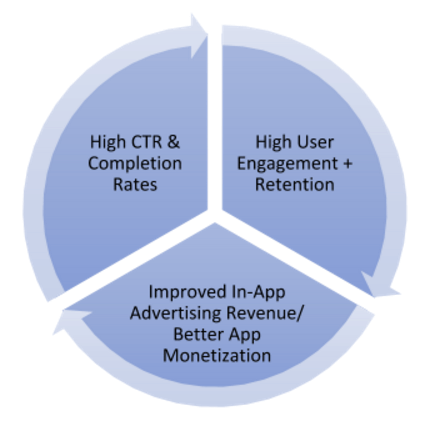 Rewarded videos when implemented strategically can be the biggest revenue generator for game developers. Chocolate, being a global leader in mobile video advertising helps game & app developers monetize through in-app advertising. Which is why a classic cards game developer preferred Chocolate's Ad Mediation platform to be their end-to-end monetization solutions partner. This cards game is more of an addiction which people relish during lunch breaks and at family game nights. This game can be played with friends or against others across the globe.
The cards game developers were looking to boost their ad revenues and eCPM which in fact ultimately surged by 3X and for some countries increased by more than 10X with Chocolate Ad Mediation platform. Lastly, they wanted to offer content which is valued by gamers, is not obstructive and leaves them with a positive experience. Like most publishers, the game developers were at first skeptical of adding video ads to their game as they felt it might impact revenue and overall retention. However, they soon realized that for a free-to-play game like their' s majority of app revenues come from in-app advertising. What propagates this scenario is the fact that brands are spending heavily on video advertising.
To implement rewarded video ads seamlessly and intuitively what was required at the game developers end was to follow certain best practices suggested by Chocolate:
1. Place ads strategically
Placement is the key to serving rewarded videos, the ad needs to entice the user to interact while ensuring that the user stays engaged with the game itself. It might sound challenging, but it really isn't. Try the following combo while placing ads in your game: main screen, storefront and in between levels or at the end of a gameplay.
2. Decide what to reward the player with
Think from the users perspective and decide what reward would entice you to keep coming back for more every day. Keep in mind: to create an urgency by offering a limited time reward, add a frequency cap to the juicer rewards. Offer players rewards that are usually not available through IAP. The card game developers decided to offer rewards like unlocking high-value VIP rooms, free bonus game chips, etc. in exchange for watching a video ad.
3. Clearly state your offer/ reward to the players
To get the best returns from serving rewarded videos you first need to educate the player about them, highlight the reward in your games tutorial this helps maintain transparency. By stating things explicitly, the player knows what to expect and can decide whether to interact with the ad, you, on the other hand, are able to win his confidence successfully.
Incorporating rewarded video ads in gameplay had a positive impact on eCPM, user engagement, and monetization in case of our client.
Related Articles