As of June 2017, there are 3+ million apps in the world off which 90-94% are available for free. Thus, the question is how do these Freemium apps make money? The answer can be found in 3 alphabets – 'Ads'. By 2020, mobile apps are forecasted to generate about $189 billon in revenue through app stores & in-app advertising.
Moreover, as per the latest Chocolate Marketplace Q4 2017 Global Trends in Programmatic Mobile Video Advertising Report, in-app video ad spend increased 57% whereas it decreased by 34% on mobile web. Marketers today value in-app advertising spaces more than mobile web. It is therefore safe to say that the importance of in-app advertising is not one to negate. The next logical question is which in-app advertising format is best for my app.
Choosing the Right Ad Format
The choice of in-app ad formats is aplenty. Advertisers thou are spending hugely on mobile video ads. Statista pegged mobile video advertising expenditure at $5.87 billion for United States in 2017. Studies also indicate that video ad formats perform substantially better on key metrics like click-through rates & viewability.
Video ads have contributed to a 20-40% increase in app revenues for most app developers. The decision of picking the best video ad format must be based on an analysis of the user behavior & the developer's goal. The aim should be to gather as much data to understand the interests & demographics of users. This helps in zeroing on the most effective mix of video ad formats, frequency, placements & caching to figure out the best options for your app.
Types of Video Ad Formats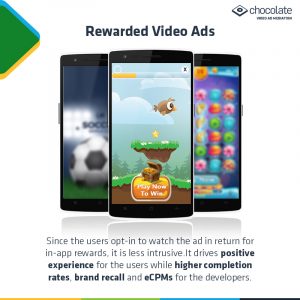 Rewarded Video Ads: Users opt-in to watch an ad in exchange of rewards like additional game life, unlocking a higher level, cryptocurrency, etc. They are the fastest growing format within video & give 30-40% higher eCPM. Rewarded video ads generate positive user experience & higher engagement rates.
One of Chocolate's client a leading cards gaming app, witnessed a 10X increase in eCPM with rewarded video ads.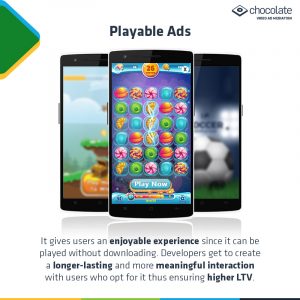 Playable Ads: Are build around a player, the ad creates an interactive moment such that the ad seems natural & offers an enjoyable experience to user without downloading.
Developers get to create a long-lasting, meaningful interaction & higher LTV with these users opted ads. They lead to ~30% increase in retention & 120% higher conversion for advertisers.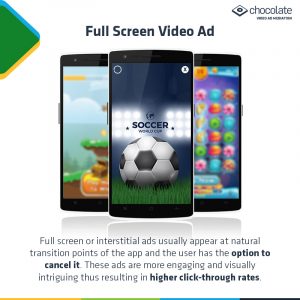 Full Screen Video Ads: Also known as interstitial ads, they appear at natural transition points of app. These ads efficiently manage user satisfaction levels by delivering viewable/ non-obstructive experience. Which results in higher click-through rates.
A leading sports entertainment app, client of Chocolate Ad Mediation was able to double their revenues by monetizing unsold ad spaces by incorporating this ad format.
To Download Chocolate Ad Mediation SDK, Click Here.
Related Articles: