Programmatic is the fastest growing phenomenon in digital advertising today. Zenith forecasts that ad spends in programmatic will grow 19% in 2019, reaching US $84 billion.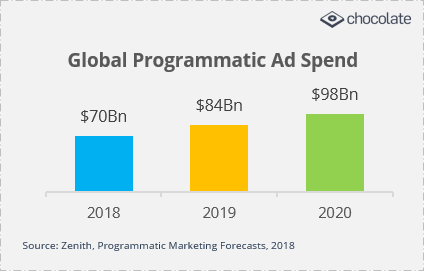 Of all money spent on advertising, 65% of it will be traded programmatically in 2019. Furthermore, by 2020 advertisers will spend US$98bn on programmatic advertising, representing 68% of their expenditure on digital media advertising.
With video being the fastest-growing consumption channel among the users, marketers and agencies have started showing growing trust in video as a significant part of their advertising strategy. This trend is supported by the fact that the breadth of ad formats available through programmatic trading is improving, with more mobile and video formats coming online all the time.
In terms of ad spend in 2018, Zenith discovers that the US is at the top position followed by China, and the UK at second and third places respectively.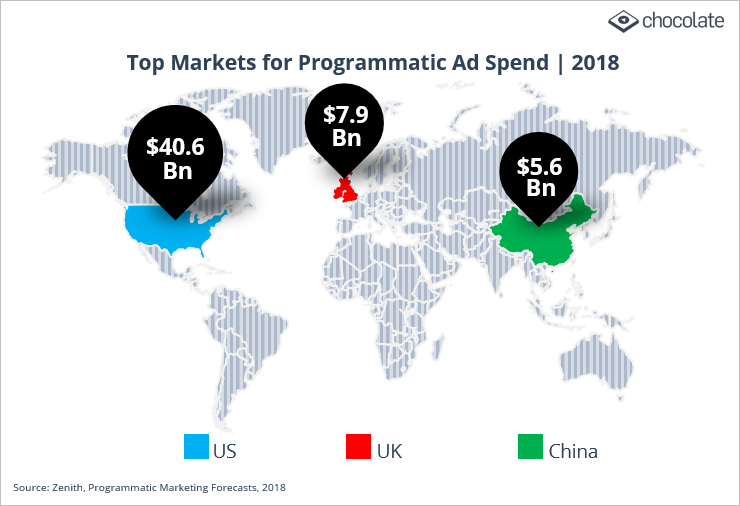 The report also found that the US is also the market that has most embraced programmatic advertising, trading 83% of all digital media programmatically this year. Canada is in second place, trading 82 per cent of digital media programmatically, followed by the UK, with 76 per cent, and Denmark, with 75 per cent.
By 2020, programmatic advertising will account for more than 80 percent of digital media in all these four markets.
The report argues that the programmatic is becoming the default way to trade media due to efficiency it offers in the overall transaction process with real-time evaluation and optimization, however, the transition is taking slightly longer. The introduction of GDPR is making certain data unavailable (previously used in programmatic transactions), and making other data more costly to process. But the main cause of the slowdown in programmatic spending is the fact that advertisers are investing more in infrastructure and data to make their programmatic activity more effective.
"These growing numbers for programmatic are good signs for the industry. Programmatic is only going to get better with time. With evolving data and algorithms, marketers can achieve everything they desire – massive scale, precise granular targeting, real-time optimization and highly engaged audiences across every coordinates imaginable." – Saurabh Bhatia, CEO, Chocolate
The report recommends that marketers and agencies need to embrace programmatic solutions by pushing publishers to improve the quality of their inventory with an incorporation of the best of fraud detection, brand safety and viewability measurements.
To harness the true potential of programmatic opportunity, all stakeholders in the digital advertising ecosystem should provide programmatic trading the high-level support and understanding it needs. And, players on each side of the value chain need to push for higher standards in both demand and supply chain.
Related Articles: