Cyber attacks have been on the increase in recent years with mobile applications becoming their prime target. Basically, most hackers (attackers) are fond of casting attention on mobile applications due to the high quality of confidential data they contain. These malicious activities have posed quite a difficult challenge for mobile app developers as it affects the security of their apps. However, it is interesting to know that many mobile app developers are today rising to the occasion with the adoption of certain effective and efficient blockchain solutions.
No doubt blockchain has risen to become a viable technology that is worth looking at. As a matter of fact, this technology has gone beyond providing financial solutions and has managed to find a place to thrive in the mobile world of applications. Currently, there is an increasingly new interest in the use of blockchain technology to secure apps thereby making it the definition of security in the present IT world. Even startups and big multimillion organizations are applying the technology to add a whole new level of security to their various application development processes.
Revolutionizing mobile application security
Despite being regarded as an emerging technology, there seems to be a rising trend in the integration of viable blockchain solutions into several mobile app development processes. In a bid to improve mobile app security, many firms have gone to the extent of developing blockchain-based applications to enable them to protect confidential data.
It is no more news that the integration of blockchain in mobile app development can help to bring about an added level of security. But the real question at this point is that "how can developers implement this kind of advanced integration in app development processes?" No doubt, there are quite a significant number of development firms that have succeeded in becoming reputable blockchain application development companies. But here is how they are revolutionizing mobile application security through blockchain development.
Some app developers and development agencies alike have taken it upon themselves to adopt blockchain technology as in a bid to effectively protect vital information on mobile apps. No doubt, this is one significant tech move that could transform the entire development process by providing a robust security paradigm to mobile apps.
Just within the past few years, several data-centric security measures have been established to prevent hackers from getting access to users' confidential information. Unfortunately, these measures haven't done much to keep data safe. Despite all these, there have been increasing cases of cyber attacks in recent times. As part of efforts to provide better app security, many app developers are turning focus to the adoption and implementation of blockchain as a suitable technology for data protection.
Aside from being reputed for improved collaboration and transaction, it is also interesting to know that the blockchain technology can be effectively used to secure data on mobile devices. While this technology is unable to prevent any unwanted access (as is the case with other security measures), it is important to know that the tech is structured as an open-source that cannot be altered or rewritten. So, the next question now is how is this going to help to improve mobile app security?
As earlier mentioned, the technology offers core competence that is well-established to enhance data security and safeguard user information from slipping into wrong hands or getting misused while also making it accessible for all at the same time. With such promising features, it is evident that developers can use these amazing blockchain solutions to their own advantage and revolutionize mobile application security for good.
Benefits of integrating blockchain into app development
Already, blockchain technology has proven itself well in enhancing the transactions among various parties (as is the case with cryptocurrencies like Bitcoin). But now that various mobile app development companies are depending wholly on blockchain and the solution that it offers to improve app security, what are the benefits users stand to gain with this?
No more passwords
It is common to find mobile users protecting their data and devices with robust passwords these days. Unfortunately, these protective protocols haven't been really helpful in denying hackers access to confidential information. Interestingly, this is slowly becoming a thing of the past as many developers are working toward achieving improved app security through an efficient blockchain development process.
Basically, these blockchain solutions are offered via mobile app development to not only get rid of the use of passwords for authentication purposes but also help to prevent data loss or theft at all times. This is typically done in such a way that both parties can come to a consensus as to how the transaction will be made via an SSL certificate. It is interesting to know that verifications are made by the distributed network before any transaction is made while ensuring outright transparency. At this point, it is extremely difficult for fraud to occur.
Secured decentralized platform
As a decentralized platform, blockchain offers a unique safe form of distributed network that makes it difficult for hackers to access users' information. Unarguably, this will go a long way in helping to prevent cyber attacks. With blockchain development, app developers can help to move relevant user data to a secure infrastructure (environment) where hackers and cyber thieves cannot gain access. Interestingly, this development process also empowers app owners by giving them the opportunity to fully gain control over the available domain records. To this end, it becomes extremely impossible for anyone to interfere with user entries.
Safe information keeping
Knowing that their data cannot be breached can help to boost user confidence in the technology. This is what gives the entire blockchain development a real edge. This is the one and only technological advancement on the mobile platform that can maintain credible data transparency and protection, as everything is made public. Anyone can easily view data fed to the block but not everyone can alter them. Basically, there is relatively nothing to hide. It is for this feature, that various mobile app development teams are adopting the technology to enhance mobile app security.
Guest Blog by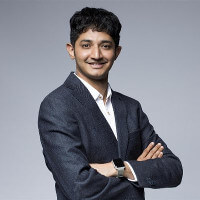 Harnil Oza is a CEO of Hyperlink InfoSystem, one of the leading app development companies in New York, USA and India having a team of best app developers who deliver best mobile solutions mainly on Android and iOS platform. He regularly contributes his knowledge on the leading blogging sites.