The programmatic advertising industry is complex, large and growing at a steady rate. As with any industry, more growth prompts more fraudulent activities by bad actors. Ad fraud has been a major concern in digital programmatic advertising, a recent study by White Ops and ANA estimates $5.8 billion will be lost to ad fraud this year¹. It goes without saying that to combat ad fraud all stakeholders involved (buyers, sellers, intermediaries) need to take stringent actions and collaborate to weed out fraudulent players. At Chocolate, we are committed to creating a platform that is powered to combat any sophisticated ad fraud schemes and this is how we have been actively executing on it:
By Partnering with a leading trusted third-party fraud detection & prevention vendor – White Ops:
Our partnership with White Ops ensures Chocolate Premium is a fraud-free platform where programmatic marketers can buy brand campaigns with confidence. With the combination of both pre-serve and post-serve process, our partnership with White Ops covers 100% of traffic on Chocolate Premium. Pre-bid ad fraud prevention is powered by MediaGaurd and post-serve multilayered fraud detection is powered by FraudSensor. Get real-time reporting on all key metrics – General IVT, Sophisticated IVT, Human Events, Incomplete Loads, Invalid Traffic by Publisher, Invalid Traffic by App ID and more.
By complying with the latest industry initiatives – Sellers.json, SupplyChain Object, Ads.txt, App-ads.txt, TAG Certified Against Fraud Seal
We adhere to the latest industry standards to ensure all digital advertising transactions are transparent, safe and attributed to legitimate buyers and sellers. We take stringent measures to work with compliant inventory partners only.
– 100% ads.txt and app-ads.txt compliant inventory only
– Implemented Sellers.json and OpenRTB Supply Chain Object  www.chocolateplatform.com/sellers.json
– Earned TAG Certified Against Fraud Seal

By applying precise in–house advanced fraud detection methods – Bid Request rejection filters
There are a growing number of faulty actors in the large programmatic advertising ecosystem, fraudsters are becoming more sophisticated in deploying new methods. Our ad quality team uses extensive and advanced detection methods to identify fraudulent activity and stop fraud before it happens. Using our proprietary technology and rigorous publisher on-boarding process, we ensure Chocolate Premium offers only quality supply to our premium brand buyers.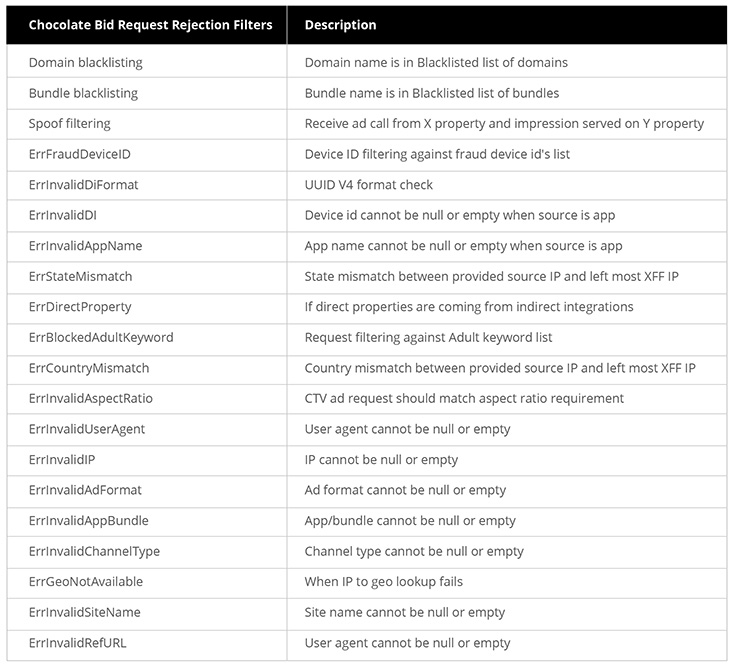 Chocolate Premium, the world's first video SSP with 100% server-side auctions, brings unique & premium video supply from 45+ leading publishers with 1000+ websites and apps. With 1B+ premium video ad requests across mobile app, mobile web, desktop, and CTV, Chocolate Premium is one of the fastest-growing premium video SSPs with server-side auction mechanism. To know more about Chocolate Premium, read our official launch announcement here
1. https://www.emarketer.com/content/five-charts-the-state-of-ad-fraud