Latest data from Chocolate Marketplace Insights (CMI) report highlights rapid growth in in-app video ad spend (+57%) and full-screen video ad formats (+170%)
San Francisco, CA (10 April 2018): Chocolate Platform, a global mobile video advertising company, today announced the launch of Chocolate Marketplace Insights (CMI) report. The report provides latest trends and in-depth analysis on ad spend, top advertiser & publisher categories, ad formats and key metrics like viewability that are shaping the programmatic mobile video advertising landscape.

The report analyses over 170 billion auctions and millions of ad impressions delivered in Q4'2017 to take a detailed look at a broad spectrum of areas related to programmatic media advertising. Chocolate Marketplace has seen tremendous interest from global brand marketers for programmatic solutions that deliver successful results with 100% transparency. Our significant investments in integrating third-party integrations like MOAT, Pixelate and conscious efforts to knock off fraud inventory has strengthened Chocolate Marketplace's position as a go-to choice for mobile video advertising.
Key highlights of the report include:
30% increase in video ad impressions served
57% increase in in-app video ad spend
170% increase in full-screen video ad impressions
32% increase in in-view ad time
Technology (36%), Retail (15%), Auto (14%), CPG (13%) and Movies & Entertainment (8%) are the top 5 brand advertiser categories
"The growth in Chocolate Marketplace ad spend and auctions is a testament to our continuous efforts in building a transparent, brand safe and viewable platform," said Saurabh Bhatia, CEO, Chocolate. "Nearly two-thirds of the world's digital display advertising (67%) will be traded programmatically by 20191, growing 21% per year which signifies the importance of programmatic in future. We happen to be at the forefront of the fastest growing mobile video advertising segment and are committed to expanding our Marketplace to create a 100% transparent platform."
Please download the report here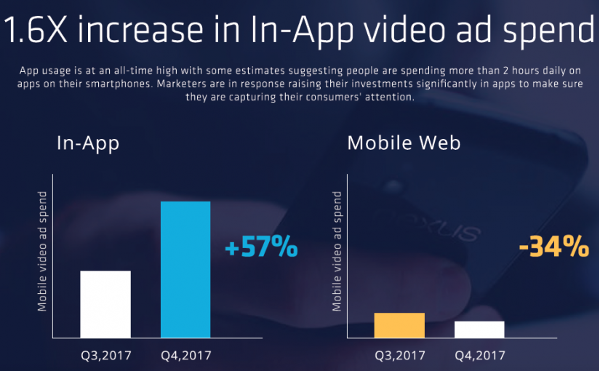 About Chocolate
Chocolate is a global leader in mobile video advertising. Chocolate offers two core products, Chocolate Marketplace, a global programmatic buying and selling platform for mobile video advertising and Chocolate Mediation, an end-to-end monetization solution for app developers & publishers. Chocolate is a privately held, venture-backed company headquartered in Silicon Valley with offices in San Francisco, CA, and India.
Media Contact
Tanu Kak
marketing@chocolateplatform.com
1: Source: https://www.zenithmedia.com/programmatic-marketing-forecasts/