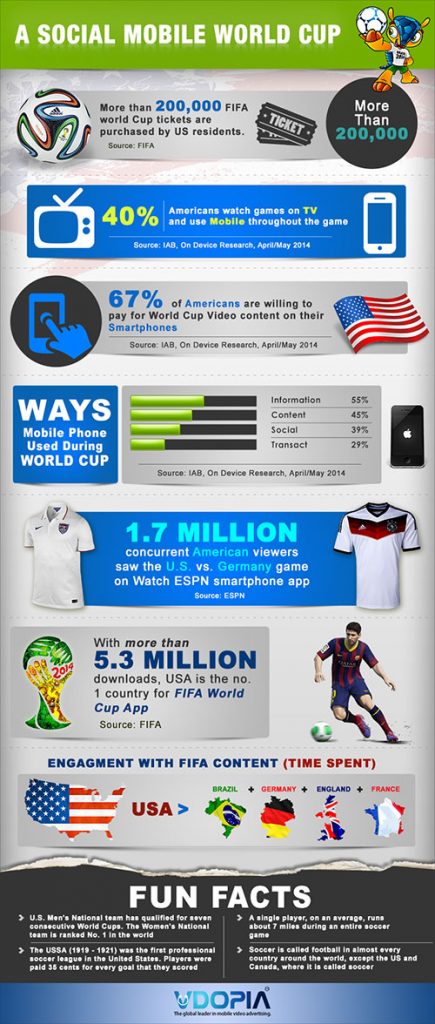 FREMONT, Calif., July 2, 2014 (GLOBE NEWSWIRE) — As World Cup fever has spread across the U.S. (much to the surprise of many), Vdopia, the global leader in mobile video advertising, has examined the impact of mobile devices on fan interaction with the World Cup. What becomes clear is that mobile devices are heavily used by World Cup fans often in conjunction with their TV viewing of the games. Among the more interesting facts(highlighted in the attached infographic):
40% of Americans watch games on TV and use mobile throughout the game
1.7 million American concurrent viewers saw the U.S. vs. Germany game on WatchESPN smartphone app
67% of Americans are willing to pay for World Cup Video content on their smartphones
With more than 5.3 million downloads, USA is the no. 1 country for FIFA's World Cup App
Ways Mobile Phone Is Used During World Cup Play Information 55% Content 45% Social 39% Transact 29%
More than 200,000 FIFA world Cup tickets are purchased by US residents (second only to Brazil).
An infographic accompanying this release is available at http://media.globenewswire.com/cache/30858/file/27378.jpg
"If you were to add in the number of people who comment on the games via social media on their mobile devices, fans at the games taking smartphone photos and folks who use apps to gather and watch the games, what emerges is an astronomical number of ways mobile factors into the World Cup games," says Saurabh Bhatia, co-founder, Chief Business Officer, Vdopia Inc. "It is hard to imagine a global event in the future where mobile will not be a huge factor. Smart marketers should be lining up for such opportunities."
Fun Facts:
U.S. Men's National team has qualified for seven consecutive World Cups. The Women's National team is ranked No. 1 in the world.
The USSA (1919 – 1921) was the first professional soccer league in the United States. Players were paid 35 cents for every goal that they scored.
A single player, on an average, runs about 7 miles during an entire soccer game.
Soccer is called football in almost every country around the world, except the US and Canada, where it is called soccer.
Vdopia (http://www.vdopia.com/mobile/) is the global leader in mobile video advertising delivering the best mobile video ad experience for consumers and advertisers across all smartphone and tablet devices. They are the first company to offer the .VDO mobile video format, a proprietary technology which enables delivery of mobile video to more people in more places than any other mobile advertising company in the world. Vdopia's clients include Coca-Cola, Walt Disney, McDonald's, Intel, Microsoft, Ford and hundreds of other leading global brands. Vdopia also delivers the best publisher solutions, offering easy and efficient integrations to monetize inventory. Its premium mobile video ad units provide the best monetization scheme for both mobile web and app. Vdopia Inc. is a privately held, venture-backed company headquartered in Silicon Valley with offices in Fremont, CA, New York, Los Angeles, Chicago, London, India and Singapore.
The infographic is also available via AP PhotoExpress.
George H. Simpson
203.521.0352
Type:
Press Release