In-app video ads (Rewarded Video Ads & Video Interstitials) are high in demand from advertisers around the globe. With exploding app usage statistics (global consumers spent an average of 2 hours per day in apps on their smartphones) the in-app rewarded video ad revenues are estimated to grow significantly. The question is, are you generating the maximum revenue from these Video Ads for your apps?
Ad mediation is a solution that guarantees higher revenue for app developers & publishers. But within mediation how can you make sure that you are getting the highest bid among all demand sources in a fair and unbiased manner?
Well, you have identified few ad networks that you prefer over others and hence you have asked for a bid from them first then moving to the next batch and so on. This method is known as the waterfall model. This method lacks the capacity to identify the highest paying bid and thus resulting in a loss of revenue. It also needs a lot of human intervention and daily/hourly management. See how: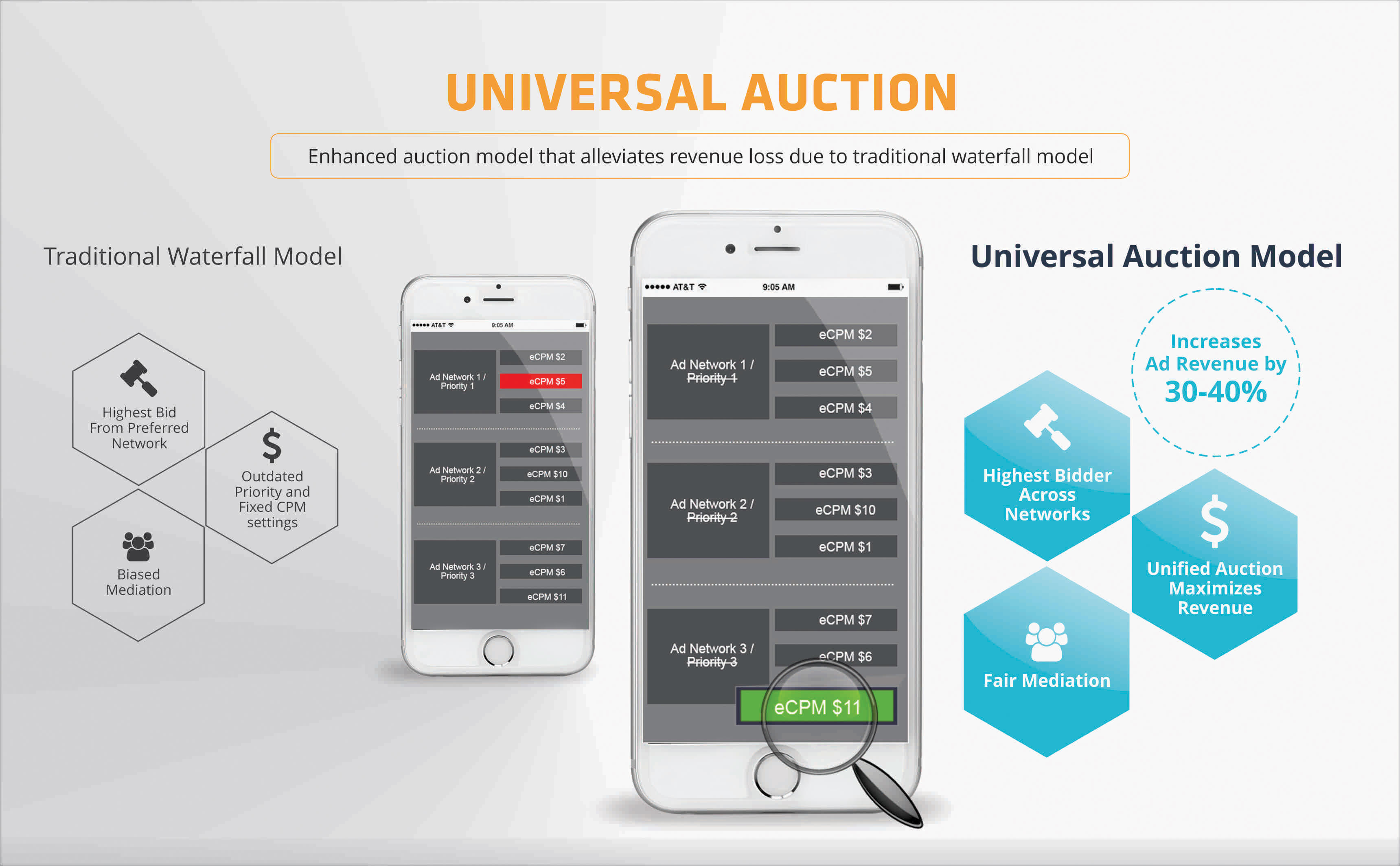 Universal Auction Model (popularly known as Unified Auction or In-App Header Bidding) is based on a simple proposition of unbiased mediation that selects the highest bid from all the mediating ad networks instead of picking bids from any preferred network. This guarantees that the highest paying rewarded video ad is selected for each bid thus significantly improving the revenues. The universal auction is an excellent model to make you rich:
It only selects the highest bidder across networks
It makes all demand sources compete thus maximizing revenue
It is a fair mediation with no bias or preference to any network
It works across all geographies without manual intervention
Learn how Chocolate Mediation maximizes app monetization using universal auction model, start now or request a demo.
Related Articles: